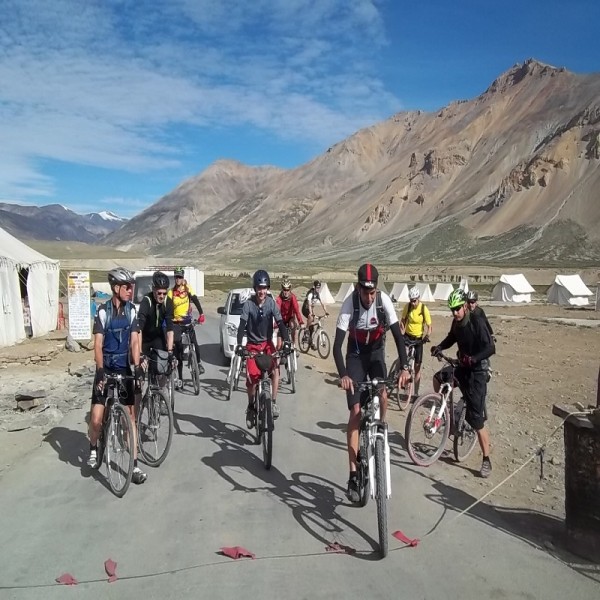 Itinerary -


Day 01: CHANDIGARH – KAWALAG (SHIMLA, 1700m) Drive/3 hrs



In the afternoon (12:00 noon) we will meet at a pre designated place in Chandigarh. From Chandigarh you will drive up to a quaint village called Kawalag near the hill town of Shimla. Check into the scenically located and very comfortable luxury camp of ours at Kawalag www.himalayanecolodges.com/redwoods.php. Evening is at leisure and one can just walk around and soak in the natural beauty. Overnight in the campsite.


Day 02: KAWALAG (SHIMLA) – KALPA (2800m) Drive 255 kms/5-6 hrs



Today we will drive to the former capital town of Kinnaur, Kalpa via Narkanda (2690m). Kalpa is a beautifully located township in the laps of the Kinner Kailash mountain. It has beautiful mix forest all around and has a couple of old wooden temples and a large chorten creating a very soothing picture. Late afternoon you could take a walk or cycle around in the town. Overnight in a hotel.


Day 03: KALPA – NAKO (3600m) Drive/122 kms/3-4 hrs – TABO (3050m) Drive/10 kms & Cycle/50 kms/4-5 hrs



We start early and drive from Kinnaur into Spiti. This drive will take about 3 hours to reach Nako. We will spend some time here and visit the Nako lake. From here till Tabo is 60kms and you will have the option to ride some part or the whole distance. From Nako till Sumdo it's a level ride and from there you will ascend to a pass and then ride all the way down to Tabo. This small monastery town of Tabo plays host to one of the holiest monasteries considered to be more than a 1000 year old. Towards evening you can visit the ancient monastery which also treasures great samples of Buddhist art. Overnight in a guesthouse/hotel.


Day 04: TABO – LINGTI (3400m) Cycle/59 kms/5-6 hrs



After breakfast we will set out on our bikes and ride along the Spiti river till Sichling. From here we will pedal towards Dhankar Monastery. This spectacular Gompa is built on a 300m high spur and overlooks the confluence of Spiti & Pin rivers. We will visit the gompa and have lunch here. Thereafter we continue riding towards Lhalung village and monastery and from there we ride further down towards Lingti. Overnight in tents.


Day 05: LINGTI - KAZA – KYE – LIDANG (3470m) Cycle/55 kms/6-7 hrs



We will drive till Kaza and from there ride for about 12 kms to reach the ancient Kye monastery. We will spend some time at the monastery and get ready for a steep uphill ride as we gain around 600m in 22 kms to reach Langza (option of riding or travelling by support vehicle) to start the ride under the shadow of the Chau- Chau Kal Nilda, the highest peak of Spiti. From here we ride a short distance on a level gradient to reach Komic Gompa, after visiting the gompa we will continue riding towards Demul in the Lingti valley and we end today's ride at Lidang. Overnight in tents.


Day 06: LIDANG – KIBBER – GETE – KAZA (3800m) Cycle/30-36 kms/3-4 hrs



We board the vehicles in the morning and drive towards Kibber (4270m). This drive will take about 40-50 mins or so. From Kibber we will ride for about 6 kms to reach the beautifully set village of Gete. You will explore this beautiful village and see the Spiti way of life at very close quarters. After some time we will get on our bikes and enjoy the thrilling downhill ride towards Kaza. Overnight in a hotel.


Day 07: KAZA (3800m) – Rest/Rafting (optional 25 kms/3-4 hrs)



Today you will explore Spiti by river. You will go on a memorable rafting trip on the Spiti river. Apart from the thrills you will see the landscape from a totally different perspective while running the river. You will finish the run and have a picnic lunch by the river. Depending upon availability you will spend the evening and night at a riverside camp. For people not wanting to raft the day can be spent the way they want to with everyone meeting towards the evening. Overnight in a camp/hotel.


Day 08: KAZA – LOSAR – CHANDRATAL (4300m) Cycle/61 kms/7-8 hrs & Trek/1-2 hrs



We start early for the 61 kms of riding today, as we traverse the length of the Spiti valley along the Spiti river, to reach Losar. Most of the riding today is on tarmac with great sights all along. You will get into the waiting vehicles at Losar and drive to a point close to the Chandratal lake (Moon Lake). From here we will trek 4 kms to the lake and camp on a meadow above the lake. The Chandratal lake with its turquoise green water & snow clad mountains in the background is a truly enchanting location. Overnight in tents.


Day 09: CHANDRATAL – CHATTRU – MANALI (2000m) Cycle/41 kms/5-6 hrs



Today we ride through a very interesting area, through a trail cut through the Chandra river and melting glaciers, as three major mountain ranges of the mighty Himalayas meet together – The Pir Panjals, The Greater Himalayas and the Zanskar range. A 41 kms ride through this region is bound to remain etched in your memories forever. You will board the vehicles at Chattru and drive towards Manali via the famous Rohtang pass. Check into a hotel. Evening at leisure in Manali. One can roam around the market and do some shopping. Overnight in a hotel.


Day 10: MANALI – CHANDIGARH (280 kms/7-8 hrs)



After breakfast we set out on the drive to Chandigarh. Trip ends here.




Trip Ends With Sweet Memories !!!
---
LIST OF ESSENTIALS



Mountain/adventure travel requires one to be adequately equipped with the right kind of personal gear. Since one is travelling in the wilderness there will be hardly any opportunity to buy anything once you hit the trail so we urge you to carefully pack everything into your bags. Also please keep in mind you can rent out or purchase equipment from our Gear Store, if required

Sufficient warm clothing for evenings, which can get quite cold
1 waterproof jacket (also acts as a windproof)
1 pair waterproof trousers
Thermals (upper & lower)
fleece/Woolen top
lowers/trousers
Shorts (for riding – your choice)
T-shirts – 3/4
Sneakers
Floaters
Raincoat / Poncho
Small light weight towel
Water bottle (sturdy ones, no empty Bisleri bottles!!)
Cap / Hat to keep the strong sun away from your face
Sun glasses
Day pack/small bag which you will carry on your back every day and keep your essentials in it
Camera if you like (with fully charged batteries)
Torch/headlamp
Personal Medical Kit (there will be medical back-up for emergencies) with the following:
A general painkiller
Anti-inflammatory pills
Antiseptic – iodine/beta dine drops
Bandages, plasters, medical tape
High factor SPF sun block (minimum 30)
Lip balm with SPF 15+
A course of general antibiotics - see your doctor for advice
Imodium or similar gut-immobilizer
At least a dozen sachets of re-hydration mixture
Safety-approved Bicycle Helmet (for those bringing their own cycles)
Knee / Elbow pads (for those bringing their own cycles)
LOADS OF ENTHUSIASM!! AND A PLEDGE TO LEAVE NO TRACE .

For Departure Dates just call 7350530009 / 7350540009 / 7350550009
Transport Options (Delhi – Chandigarh – Delhi)



For travel to Chandigarh and back one can choose between air, rail & road. Chandigarh airport is well connected to Delhi and other parts of the country by Air India, Jet Airways, Kingfisher Airlines & Spice Jet. Train travel is highly recommended with enough options being there. For train details, you could log on to www.indianrail.gov.in and for online railway ticket bookings you could log on to www.irctc.co.in.
There are frequent Public Transport buses including Volvos available from Delhi to Chandigarh that cost about Rs. 200 – 500 per person. These buses depart from Delhi ISBT every 30 mins. or so and take about 4/5 hrs to cover the distance. The same is also applicable on the return journey. A private vehicle could also be arranged for if you require the same




WEATHER



Spiti & Lahaul are high altitude regions in India with a minimum elevation of about 3000m. This dry cold desert area experiences hardly any rainfall as the high Himalayan ranges block the Indian monsoons. Spiti is surrounded by ranges of the Greater Himalaya in a semi circular arc, separating it from Lahaul on the west, Kullu to the south and Kinnaur to the southwest. These ranges prevent the moisture laden monsoons from reaching the region, thus creating in Spiti, a bleak and arid landscape in common with Ladakh and Tibet.
In summers (June - Aug) the day time temperatures would further rise to about 18-25°C. The sun can be very strong during the day while the night temperature would hover around 14-18°C. Autumn (Sep - Oct) is when the temperatures start to fall again and hovers between 10-15°C in the day time and will go sub zero in the night.
Best time for trips in this region is mid June to September



RESPONSIBLE TOURISM




The ecology of the Indian Himalayas remains fragile not only in terms of the flora & fauna but the very people who inhabit its many regions and with the increased pressure on its limited resources, the sustainability of this great biodiversity is threatened by a deluge of visitors with little or no understanding of the myriad issues facing the land and its people.
Namoh has initiated a number of long term sustainable initiatives that would enable us to preserve this ecosphere better and be of assistance to the local population. These actions include:

Using completely local resources and support for all trips, including provisions and porters so that we generate local employment and provide a good price for their produce. We also often endeavor to use their homes if the clients so wish to stay along the trail.
Namoh is a company that strictly operates under the guidelines of Leave No Trace in the Indian Outback, with proper planning in terms of route, locations and campsites. All the waste is collected under biodegradable and non-biodegradable categories and the latter is carried back into regular habitation where they can be properly disposed.
All our trips strive to respect the local traditions of the regions that we visit and we impress on our clients the importance of doing so. This also provides our clients an insight into the cultural diversity of the Indian Himalayas.
Namoh setting up the first trekking village in the country – Namoh is committed to the development and conservation. We are, in partnership with a village in the Himalayas called Sankri trying to set up the first trekking village in the country. We will train the locals on various aspects of responsible tourism and provide them assistance to set up a commercial & eco friendly set up in the village. We do not encourage financial aid but volunteer work and aid in form of trekking/other equipment for locals will be appreciated



Duration:

10 Days


Season:

Jun-Sep


Grade:

Moderate +


Region:

Spiti (Himachal Pradesh)


Description




This is a true Soul Journey. Spiti & Lahaul with its stark arid landscapes presents a picture one gets to see very rarely in ones lifetime. Visual delights aside, you ride in a region soaked in unique culture and history and which opens up only for a few months every year. Along the trip, as you ride through the wonderful vistas of the high altitude Hindustan-Tibet Road you come across small settlements with ancient monasteries, chortens, mani walls, fluttering flags, prayer wheels & Buddhist monks, leaving an image which is sure to last a lifetime.).

Spiti is surrounded by ranges of the Greater Himalaya in a semi circular arc, separating it from Lahaul on the west, Kullu to the south and Kinnaur to the southwest. These ranges prevent the moisture laden monsoons from reaching the region, thus creating in Spiti, a bleak and arid landscape in common with Ladakh and Tibet.

Cyling in Spiti Lacking vegetative growth, the exposed terrain is a geologists paradise. It records every geological age from the Pre-Cambrian to the recent, in pristine formations

This is a challenging trip and requires one to cycle in a high altitude area. You will set out on your bikes near Nako, in Spiti valley and from there on move along the Hindustan-Tibet border road. From Nako you ride to Tabo, famous for its ancient monastery. Next few days you will ride through several settlements and monasteries before pedaling to the district headquarters at Kaza. From Kaza we ride through monasteries and villages close by and also go on a memorable rafting trip (optional) on the Spiti river. Having explored the Spiti valley we set our eyes on the Lahaul valley and ride all the way to the stunning Moon lake (Chandratal). We will camp here for a night and next day ride towards the beautiful hill town of Manali to finish this the 'once in a lifetime' trip.

Cyling Manali to Baralacha la Most of the times we will be riding on mostly empty roads, a luxury in India! There will be support vehicles with the riders and you will have the flexibility to decide which stretch to ride and what stretch to plonk yourself in the support vehicle. You can also get partners who are looking at minimal riding or no riding.

Spiti on Wheels 9N/10D