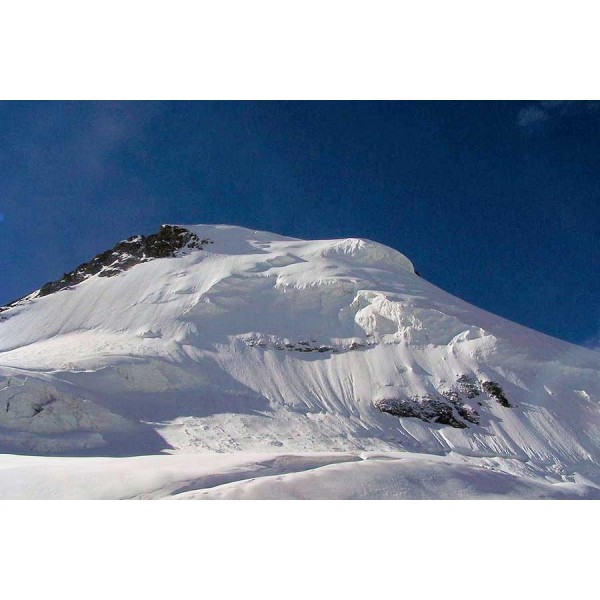 Itinerary -
Day 1: Haridwar - Auli(2450 m) Drive/280 kms/8-9 hrs

Meet our representative in Haridwar and from here drive to Auli. This is a beautiful drive during which you would drive through the holy towns of Haridwar and Rishikesh and later through the four of PanchPrayags of Deoprayag, Rudraparayag, Karnprayag and Nandprayag. The drive would be along the Ganges at first and later along the Alaknanda. At each of these prayags you have the confluence of one of the big Himalayan rivers with the Alaknanda which forms the main root river. Arrive in the lodge towards evening and soak in the beautiful views of the Alaknanda valley and the mighty snow-clad peaks of the Himalayas. Depending on the time, you could take a walk in the apple orchards that the lodge is in and relax in the lodge itself. Overnight in the lodge.


Day 2: Auli – Parsari(3000 m) –ITBP - Auli(Trek /4-5 hrs)

After breakfast at the lodge, we set off on our day hike to Parsari village and ITBP. This trek takes us to the beautiful village of Parsari and from here up to the ITBP camp. We continue to trek further and reach Auli towards the afternoon. During the trek you would have wonderful views of the big Himalayan giants, including Nanda Devi (India's second highest peak), and sweeping views of the ski slopes of Auli, the Joshimath town and the Alaknanda valley with the Alaknanda river meandering through it. In evening sit back and relax at the lodge. Overnight at the lodge.


Day 3: Auli – Gurson Meadows (3350 m) –Auli(Trek /5-6 hrs)

Today we will drive to Auli and from here we will enjoy the thrill of cable car. The ropeway helps to view enchanting and explore the region with unique and unsurpassed experience. We will reach the top most level of the cable car. Here we get off and start our trek towards Gurson top. It's a superb experience of trekking on the snow covered meadows with great Himalayas just in front of you. We will trek to Gurson top which is a vantage point to view the great Nanda Devi. Spend some time in these serene setting and return to the lodge towards afternoon. On arrival relax and overnight at the lodge.


Day 4: Auli – Dhak Towards Khulara – Auli(Trek / 7-8 hrs)

After breakfast we drive to Dhak village and from here trek towards Khulara. This is an excellent trek which will take you through the beautiful Himalayan settlements. We will trek passing beyond the village of Karchi and reach the meadows above the village. This is an excellent trek in the beautiful settings. In the afternoon trek back to Dhak village and board the vehicles. Explore the hot springs at Tapovan and later drive back to the lodge. Overnight at the Himalayan ec0 lodge Auli.


Day 5: Auli –Haridwar(Drive/280 kms/8-9 hrs)

After breakfast drive down to Haridwar.
Trip Ends With Sweet Memories !!!
ESSENTIALS

Mountain/adventure travel requires one to be adequately equipped with the right kind of personal gear. Since one is travelling in the wilderness there will be hardly any opportunity to buy anything once you hit the trail so we urge you to carefully pack everything into your bags. Also please keep in mind you can rent out or purchase equipment from our Gear Store, if required.

Shirts/T-shirts – 3/4
Warm shirt/light micro fleece pullover/full sleeve T shirt
Trekking Pants (water resistant/repellent & having inside lining for extra warmth) - 2
Windproof/water resistant outer shell (Jacket) of good quality (no flimsy wind cheaters please!) with a proper hood
Down Jacket (with min 600 fill power rating)
Thick Fleece / Full-sleeve Woollen sweater
Thermal inner wear (upper & lower)
Woollen cap (Balaclava)
Inner fleece gloves
Outer waterproof gloves
Thick woollen socks & regular socks (4-5 pairs)
Scarf/muffler (optional)
Comfortable waterproof Trekking/Hiking shoes (shoes with a thick sole and high ankles are recommended)
Camp shoes (these can be easy to slip in sneakers/sport shoes)
Gaiters
Small light weight towel
Insulated water bottle & hydration pack (optional)
Cap / floppy hat to keep the strong sun away from your face
Sun glasses with UV protection and ability to cut the glare (imp when traversing through snow)
Sturdy walking stick / Trekking pole
Sunscreen Lotion
Lip Balm
Torch / Flashlight (with extra batteries)
Medicines, if requiring any specific medication
Personal toiletries
Book, if you like reading
Day pack/small bag which you will carry on your back every day and keep your essentials in it
Carry rain cover for your bags
Keep a few poly bags or waterproof bags in your bag in which if required you can put your belongings in case of heavy rain
Camera if you like (with fully charged batteries)

…LOADS OF ENTHUSIASM!! AND A PLEDGE TO LEAVE NO TRACE

Carry your stuff in a duffel bag, soft shoulder bag or a rucksack. Avoid suitcases, trolleys or any other hard luggage. As you will be walking long distances carrying a rucksack, avoid bringing unnecessary items on the trek. Please avoid carrying expensive watches, jewellery and electronic items on the trek.

For Departure Dates just call 7350530009 / 7350540009 / 7350550009
Transport Options (Delhi – Haridwar – Delhi)


For travel to Haridwar and back one can choose between air, rail & road. For air travel, the closest airport is the Jolly Grant Airport (at Dehradun) and is well connected to Delhi and other parts of the country by Air India, Jet Airways, Kingfisher Airlines & Spice Jet. Train travel is highly recommended with enough options being there.

There are frequent Public Transport buses including Volvos available from Delhi to Haridwar that cost about Rs. 200-700 per person. These buses depart from Delhi ISBT every 30 mins. or so and take about 7 hrs to cover the distance. The same is also applicable on the return journey. A private vehicle could also be arranged for if you require the same.


Weather Details

This trek is organized between end Dec& Mar when the region has had good snowfall. Contrary to popular belief, winters are a good time to be in the mountains if one is equipped properly. Most locals inhabiting higher reaches of the mountains don't mind the problems associated with snowfall and seem to have a good time during these months. Also there are lots of local festivals in these months. In these months weather is generally clear most of the days. Day time is pleasantly warm with one getting to enjoy sitting out in the sun and temperatures would be around 12-17 °C. Evenings are quite cold and one would need to be inside a tent/room or sitting outside next to fire with proper winter clothes. The evening temperatures will be around 0 to 5 °C. Nights can be very cold with temperatures in the range of -5 to 0 °C.

Please keep in mind that the above information is not exact and does not account for sudden changes. Whatever the temperatures and conditions rest assured we will be prepared to handle it with ease as we use equipment of very high specifications


Duration: 5 Days


Season: Dec-Mar


Grade: Moderate


Region: Garhwal (Uttarakhand)


Description


This is an exceptional winter trek with lots of great sights & memorable experiences within a short time. It will be of great interest to people who love the idea of being in snow and dont want to rough out a lot by camping on snow on cold nights. As this trek is based out of our beautiful mountain lodge at Auli one will spend the nights in the comfort of warm and inviting rooms while the day time would be spent walking through beautiful trails

Be it summers or winters this region is an absolute gem when it comes to mountain landscapes and trekking trails. There are superlative slights all along the trail. Also one gets to enjoy trekking in snow with spectacular views of great Himalayan peaks. This trek is oriented around Auli in the state of Uttarakhand. Auli is a popular winter as well as summer destination and came into prominence for the beautiful meadows which provide excellent views of the greater Himalayas and also providing ample of opportunity for the sport of skiing. With great slopes and remote countryside all around it is perfect for snow trekking & skiing. The beauty of this place is something which you are going to cherish for long. Very few mountain destinations would have such up close views of some of the highest mountains in the world including the most revered Nanda Devi peak (Indias second highest mountain). Our lodge here is spectacularly set in an apple orchard facing the mountain ranges. As the trip is based around the lodge and does not require one to camp out in the cold and you will be able to focus all energies on activities

This trek can be undertaken by anyone who loves the idea of being in the mountains and is reasonably physically fit. First timers are welcome on this trek. To join the trek you will need to reach Haridwar which is very well connected from all parts of the country by rail, road and air transport

Snow Trek: Around Auli & Gurson Meadow 4N/5D