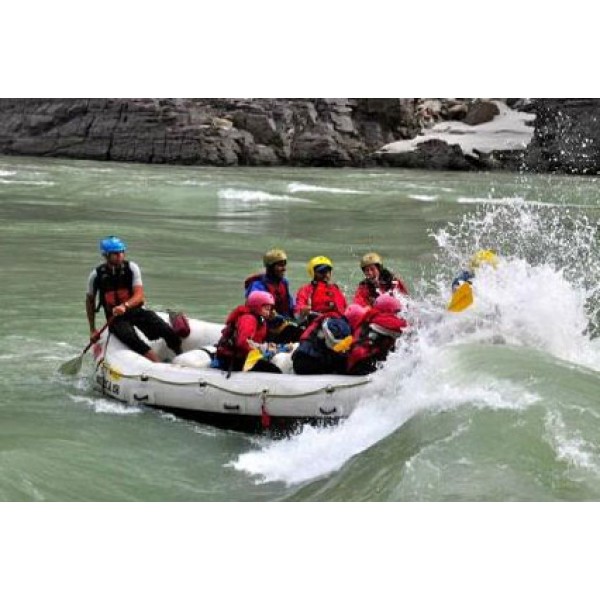 Itinerary -


Day 1: Haridwar – Kund / Camp Chalkot [Chopta ] (Drive / 7 - 8 hrs)

Assemble in Haridwar at 7 am
After a delightful journey, reach the campsite at Kund / Chalkot
Evening, indulge in rope & rock activities
Overnight stay at the lodge/ camp



Day 2: Kund / Camp Chalkot [Chopta] – Deoriatal - Rohini meadows - Chalkot [Chopta] (Trek / 5 - 6 hrs) (Drive / 40 mins)

Post breakfast drive to Sari and from here start hiking towards Deoriatal
After trekking for 1-2 hours reach Deoriatal Lake
From here continue the trek to Rohini Bugyal
Continue to trek to road head from where we drive to Camp Chalkot [Chopta]
Overnight stay in tents.



Day 3: Camp Chalkot [Chopta] – Tungnath - Chandrashilla – Kund / Chalkot [Chopta] (Trek / 5 - 6 hrs) (Drive / 40 mins )

Today we drive to the starting point in Chopta, with a hike till Tungnath
The climb is demanding ,short & extremely scenic
After couple of hours reach Tungnath temple
Witness the captivating meadows & striking views of big mountains and valleys
After relaxing a bit, head on to Chandrashilla peak
On reaching, witness 360 degree views Nanda Devi, Trishul & Chaukhamba Peak.
After a while, hike back to Kund / Camp Chalkot (Chopta).
Overnight stay in lodge/ tents.



DAY 4: Chopta – Jayalgarh (Rafting on Alaknanda / Ganga) (Strech / 2 - 3 hrs) - Haridwar (Drive / 7 - 8 hrs)

Today we drive to Jayalgarh
Enjoy rafting on Alaknanda / Ganga
Enjoy the thrills of cliff Jumping , body surfing and swimming
Post rafting, drive to Haridwar.
Trip Ends With Sweet Memories !!!
List of Essentials

It is very important for this adventure trip that you need to be equipped properly and with a bit of back up. Mountain/adventure travel requires one to be adequately equipped with the right kind of personal gear. Since one is travelling in the wilderness there will be hardly any opportunity to buy anything once you hit the trail so we urge you to carefully pack everything into your bags.

Shirts / T-shirts – 2/3
Warm shirt/light micro fleece pullover/full sleeve T shirt
Shorts
Trekking Pants (water resistant/repellent & having inside lining for extra warmth) - 2
Windproof/water resistant outer shell (jacket) of good quality (no flimsy wind cheaters please!) with a proper hood
Socks
Comfortable waterproof (Goretex) Trekking/Hiking shoes (shoes with a thick sole and high ankles are recommended)
Camp shoes (these can be easy to slip in sneakers/sport shoes), Floaters
Raincoat / Poncho
Small light weight towel
Insulated water bottle & hydration pack (optional)
Cap / floppy hat to keep the strong sun away from your face
Sun glasses with UV protection and ability to cut the glare (imp when traversing through snow)
Sturdy walking stick / Trekking pole
Sunscreen Lotion
Lip Balm
Torch / Flashlight (with extra batteries)
Medicines, if requiring any specific medication
Mosquito repellent
Personal toiletries
Book, if you like reading
Day pack/small bag which you will carry on your back every day and keep your essentials in it
Carry rain cover for your bags
Keep a few poly bags or waterproof bags in your bag in which if required you can put your belongings in case of heavy rain
Camera if you like (with fully charged batteries)

For Departure Dates just call 7350530009 / 7350540009 / 7350550009
Transport Options (Delhi – Haridwar – Delhi)


For travel to Haridwar and back one can choose between air, rail & road. For air travel, the closest airport is the Jolly Grant Airport (30 kms) in Dehradun and is well connected to Delhi and other parts of the country by Air India, Jet Airways & Spice Jet. Train travel is highly recommended with enough options being there.

There are frequent Public Transport buses including Volvos available from Delhi to Dehradun that cost about Rs. 300-700 per person. These buses depart from Delhi ISBT every 30 mins. or so and take about 7 hrs to cover the distance. The same is also applicable on the return journey. A private vehicle could also be arranged for if you require the same.


Weather Details

In the initial days of the pre monsoon season (April – Jun) days are going to be sunny and warm (18-26 °C) while the night temperature at the highest campsite would be in the range of 5-13 °C. In the post monsoon season (Sep-Nov) the days are sunny and clear with temperatures hovering around (14-22 °C) the evenings start getting cold with the onset of October and nights are comparatively colder (2-10 °C). Mid-December onwards it gets cold with onset of snow. This region experiences heavy snow which melts only by mid-March. During winter months if the day is clear, then it's sunny with very comfortable weather. Evenings and nights are cold with temperature going down to about –8 °C. In winters we avoid camping and base ourselves at the lodge in Kund to the maximum extent.

Please keep in mind that the above information is not exact and does not account for sudden changes. Whatever the temperatures and conditions rest assured we will be prepared to handle it with ease as we use equipment of very high specifications


Duration: 4 Days


Season: Apr- Jun, Sep - Dec


Grade: Moderate


Region: Garhwa l- Uttarakhand ,Uttarakhand


WHY TAKE THIS TRIP

To challenge oneself every day for continuous 4 days and to put oneself in the best of Outdoors amidst the beautiful mountains, meadows and much more.


HIGHLIGHTS OF THIS ADVENTURE

High Adventure Quotient of the trip and opportunity to touch 4000 mts

Spectacular trekking routes covering Chopta, Tungnath, Chandrashilla peak, Deoriatal & Rohini Bugyal (meadow)

River rafting & Cliff jumping on either Ganga or Alaknanda River

Adventure activities like Bridge Slithering, Rappelling, and Tree Jumaring & Swimming in natural pools

Spectacular private campsite near Chopta

Mouth- watering all inclusive price. No need to spend a penny on anything

Only for students trek so a great opportunity to be with likeminded people



Chopta trek with Rafting - Youth Adventures 3N/4D