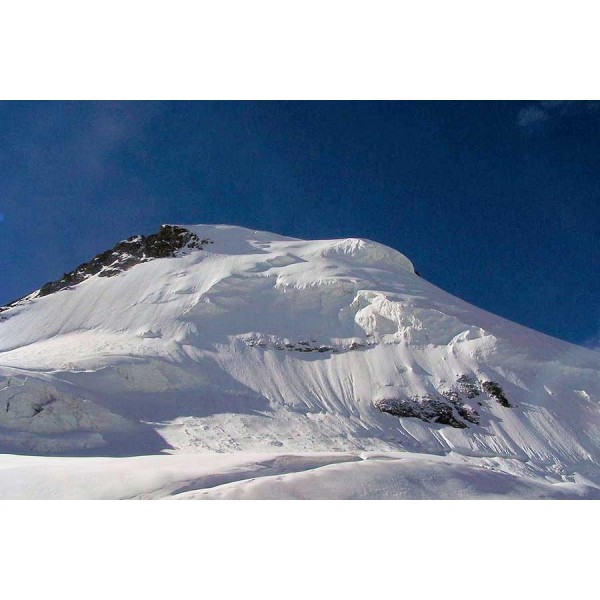 Itinerary -
Day 1: Delhi - Haridwar - Rishikesh

In the morning catch an AC Train for Haridwar at 06:50 hrs. On arrival at Haridwar by 11:25 hrs, meet our representative who will assist you with reaching Rishikesh and hotel check-in. In the evening, visit Ganga Ghat for famous Aarti ceremony. Dinner and overnight stay at the hotel.


Day 2: Rishikesh – Uttarkashi (1150m, Drive 200 kms /6-7 hrs)

Post breakfast, we will drive to Uttarkashi via Chamba and Tehri. On arrival, check in to a hotel. Dinner and overnight stay at the hotel.


Day 3: Uttarkashi - Jhala (2575m, Drive/3-4 hrs)

In the morning after the breakfast, we shall drive to Jhala. On arrival, we shall set pitch our tents for overnight stay.
Optional: Visit the temple of Gangotri and from there drive back to Jhala. Dinner and overnight stay in tents.


Day 4: Jhala - Shepherd Camp (09 Kms/3440 Mts)

After the breakfast, we shall start our first day trek towards Shepherd Camp. The trek is on the trail following the left bank of Sian Gad, we will be required to climb on steep terrain and pass through a thick forest. On arrival at Shepherd Camp, check-in at the camp followed by dinner and overnight stay.


Day 5: Shepherd camp - Kyarkoti (3850 m, Trek / 3-4 hrs) 10 kms

In the morning, post breakfast, trek towards Kyarkoti with packed lunch. The trek will require climbing on steep terrains and passing through thick forest and alpine meadows. On arrival at Kyarkoti Meadow, we will set out our camp. Dinner and night stay at the camp.


Day 6: Kyarkoti - Guntu Nala (6 hrs trek)

Today, we shall trek to Guntu Nala. We will cross through a forest, see waterfalls and traverse through a meadow. On arrival, we shall set out our camp for overnight stay.


Day 7: Guntu Nala - Bugyal Camp (5 hrs trek/4650 Mts)

Post breakfast, we shall trek towards Bugyal Camp, which is believed to be the best meadow in the valley. Overnight stay at Bugyal Camp.


Day 8: Bugyal Camp - Below Pass (6 hrs trek) 4850 mts

In the morning, post breakfast, we shall trek to Below Pass. On arrival, we shall set out our camp for overnight stay.


Day 9: Below Pass - Dhumdhar Pass (6 hrs trek) 5608 mts

Our trek for the day will be tough. We will trek through rough mountains and boulders to reach Dhumdhar Pass. On arrival, we shall set out our camp for overnight stay.


Day 10: Dhumdhar Pass - Kalanaag Base (6 hrs trek)

Post breakfast today, we will trek to Kalanaag Base. The trek will be moderate and it will take about 6 hrs to reach the destination for the overnight stay.


Day 11: Kalanaag Base - Ruinsara Tal (6 hrs trek)

Today's trek is going to be exciting as we shall be able to witness lofty snow-clad mountains, murmuring waterfalls and lush green meadows. On arrival at Ruinsara Tal, we shall set our camp and stay overnight.


Day 12: Ruinsara Tal - Thange (7 hrs trek)

In the morning, after the breakfast, we shall trek to Thange. The trekking trail will pass through rough mountains and boulders. Overnight stay at a camp in Thange.


Day 13: Thange - Cross Bali Pass Camp - Damini

Today, we shall traverse through the Bali pass to reach Damini. Overnight stay at a camp in Damini.


Day 14: Damini - Yamunotri

Post breakfast today, we shall trek down to Yamunotri. Overnight stay in a camp in Yamunotri.


Day 15: Yamunotri - Dehradun - Delhi

After breakfast, we shall drive to Dehradun via Mussoorie. On arrival at Dehradun transfer to railway station and catch an AC train to Delhi. Arrival at Delhi by 22:45 hrs.

Trip Ends With Sweet Memories !!!
Things to Carry for Dhumdhar Kandi Pass Trek

• Duffel bag Down/synthetic camp booties
• Sunglasses, Light gloves
• Sleeping bag
• Flashlight/Headlamp with extra batteries
• Daypack
• One liter water bottles wide mouthed
• Trekking Boots
• Water purification/filter
• Camp shoes/sneakers
• Walking stick/Trekking pole
• Cotton socks
• Note book with pens and pencils
• Gore-Tex jacket
• Lip balm
• Light wind jacket Sunscreen / Moisturiser
• Down jacket/vest
• Camp towel/towel/sarong
• Fleece jacket/vest
• Personal toiletries
• T-shirts
• Personal medicines
• Underwear
• Money pouch/belt
• Trekking pants
• Energy bars
• Thermal tops
• Vitamin tablets
• Thermal bottom
• Extra passport photos
• Warm hat and Bandana/scarf
• Sun hat/baseball cap
• Wind- and rain-gear with hood
• Swiss Army Knives (Classic pocket tool)
• One pair cotton trousers or shorts
• Two cotton shirts/T-Shirts One warmer (jacket with hood)



For Departure Dates just call 7350530009 / 7350540009 / 7350550009
Best Time to Visit

Best time to travel to Dhumdhar Kandi Pass Trek is Mid May to mid October.
In Summers: The weather of Dhumdhar Kandi Pass Trek remains salubrious and pleasing during summers. The Himalayas are distinctly visible and the cool breeze adds charm to the vacation. Carry woolens with you.
In Monsoon and Post Monsoon: Serenity and solitude are at its best during monsoon and post monsoon at Dhumdhar Kandi Pass Trek.


Where is the Dhumdhar Kandi Pass?

Located at an elevation of 5608 m, Dhumdhar Pass can be reached after trekking for eight days from Jhala. Quite known for its tricky location and variable climatic condition, the pass was discovered by James Baillie Frazer in 1815.


How to Reach?
By Air: Jolly Grant Airport in Dehradun is the closest airport, around 195 km from Uttarkashi. Daily flights from Lucknow, Delhi, Chennai, Mumbai, Bangalore, Hyderabad, and Trivandrum, are available for Dehradun.
By Road: Uttarkashi, the base camp of the trek, is connected with all the major towns of Uttrakhand. Rishikesh (185 km), Haridwar (189 km), and Dehradun (144 km) are the major town for Dhumdhar Kandi Pass Trek.
By Railway: Haridwar Railway Station, 210 km from Uttarkashi, is the nearest railway station.

Area : Garhwal Himalayas


Duration : 15 Days (3 days travel/12 days trekking)


Best Season : Mid May - Mid October


Grade :Tough


Altitude : 5608 mts


Total Trekking : 130 K.M


About Dhumdhar Kandi Pass Trek

You will have to start the expedition from Gangotri. Cross two passes and you will get the glance of the snow laminated peaks. The valleys that you will find in this route are excellently steep and the scenic beauty all around is really draped with the best splendor of nature. Starting from the journey, you will have to reach Yamunotri, after crossing the passes and valleys. Dhumdhar Kandi Pass is having excellent lush woods and meadows, filled with alpine and deodar. Kyarkoti is the last point of the extension of this lush forest. You will find Mother Nature in her raw beauty. The grazing land at the side is outstanding in beauty. The beauty you will find is panoramic for eyes, but that is not enough – you will feel a homely care from nature Goddess. Excellent topography and outstanding landscape view of the place is extraordinarily enchanting. The seasonal flowers attached with it make background of the place even more energetic and exotic.
The adventurous journey starts from Gangotri and elongates to Kyarkoti. The entire route will cover the Yamunotri. Birch forest and other snow embedded beauty of the path indicate eternal love and compassion of nature Mother for her toddlers. This is regarded to be one of the toughest trek routes in entire Garhwal routes. Still now you have seen the Kalanag Mountain peeping you from different angles. Now you will have to cross the base of that giant. However, nature is always there to assist you with her charming smile and young beauty embedded in immense compassion. Waterfalls of the route of Ruinsara Tal are also to be crossed here, for the route. This makes the route so special and tough.
Experience of the pass route is really beyond all words. Excellent lakes and waterfalls from all corners are there at the middle of the journey, whereas in the lower course, you will have to cross the meadows covered and spotted with distinct floral decoration. Different waterfalls from the Ruin Sara Valley will be washing your feet throughout the middle course of the trek journey. The care and anticipation nature will show for you in this route will make you feel that you are the son-in-law of her. It is better to trek the route in summer and autumn. Winter snow can be really bad in this area of Garhwal. At times the snowfall turns out to be a blockage of the entire route. The monsoon time on the other hand, due to the melting season of snow, can be dangerous in the hills. This route is not at all for the novices. So get to the spot and find what nature kept secret for you is there.
The full route is touching with so many holy spots, that myths will overload your notebook. Stories of Gangotri, Yamunotri and of the lakes are such big and rich, that you will find no space to write the natural beauties in your notes.


Dhumdhar Kandi Pass Trekking Tour Highlights

• Relish the exotic view of Bhagirathi Valley & the Dhumdhar Kandi Pass
• Walk across the glacial moraines, debris, and snowfields
• Enjoy an overnight camp, under the stars, on the bank of Ruinsara Lake


At a Glance

• Group size: Min 04 and Max 12
• 15 Days (3 days travel/12 days trekking)
• Max altitude - 5608 mts
• Trek start point : Delhi/Rishikesh
• Fixed Depatures : Not Avaliable


Accommodation & Meals

• 03 Nights Hotel
• 11 Nights Camping


Dhumdhar Kandi Pass Trek 14N/15D