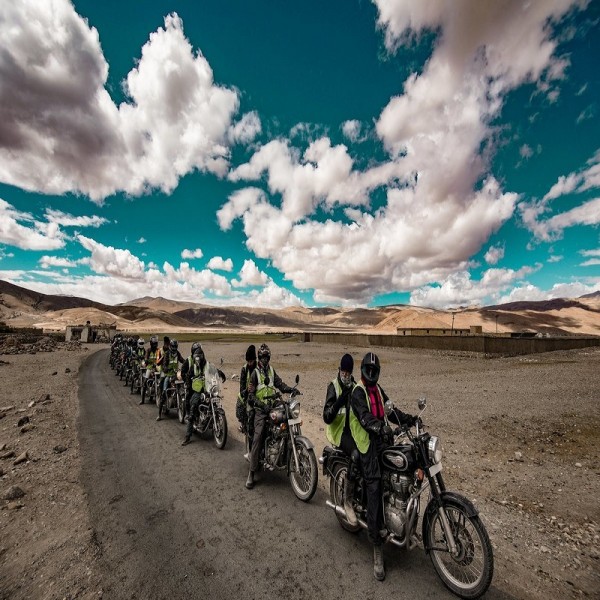 Itinerary -
Day 01: Arrive Manali (2030m)



Arrive in Manali. Today you have the option of taking it easy in Manali. Also towards afternoon we will get going with a riding tour around Manali. This will give us time to get used to the bikes. In the evening one can roam around the local market, visit a famous temple and check out other sightseeing spots in and around Manali. Overnight in a hotel.
Meal Plan – B, D


Day 02: Manali – Jispa (Ride 135 kms/4-5 hrs)



This day you start on one of the greatest road trip on the planet. You will be riding on the famous Manali – Leh highway and reach Jispa today. Ahead of Manali you will cross the famous Rohtang Pass (3980m), with excellent views of the Pir Panjal range. You will stop here for some photography. This pass is open only during a few summer months every year. From here you descend to the Chandra River and ride to the quaint village of Jispa. Enroute you will visit the beautiful town of Keylong. Overnight in a hotel/guesthouse.
Meal Plan – B, D


Day 03: Jispa – Baralacha La(4892m) – Jispa



You will start early and ride for about 8-9 hours throughout the day. Today you will ride to the Baralacha La (4892m). It's a double pass linking both the upper Chandra valley and Bhaga valleys with the Lingti valley and the vast Lingti plains. Baralacha La has a small lake – Surajtal which is considered to be source of river Bhaga. In the afternoon we return back to Jispa. Overnight in the hotel.
Meal Plan – B, D


Day 04: Jispa – Kaza (3800m), ride 110 kms/3-4 hrs)



Today after morning breakfast, we ride to kaza, which will take odd 4 hours. Kaza is overlooked by high mountain ridges on all sides. It has two access points : one from Kinnaur valley and the other from the Lahaul valley, 11 km from Ki monastery. Kaza is known for its colourful cultural heritage, and is home for ancient Sakya Tangyud Monastary and historic Gompas spread in the vicinity. Evening at leisure, overnight at hotel in Kaza.
Meal Plan – B, D


Day 05: Kaza – Tabo(3049m) – Dhankar(3890m) – Dhankar lake (4285m) – Kaza (3800m) Ride /3-4 hrs and trek/2-3 hrs



After breakfast we will set out on a beautiful ride towards Tabo. Visit the town of Tabo is settled around a Buddhist monastery which, is over a thousand years old. Tabo is situated on the banks of River Spiti. From here we ride to Dhankar Monastery. This spectacular Gompa is built on a 300m high spur and overlooks the confluence of Spiti & Pin river. We visit the gompa and from here hike up to Dhankar lake and spend some time around the lake, thereafter we head back to Dhankar village and ride towards Kaza. In the evening we reach Kaza. Overnight in a hotel/ guesthouse.
Meal Plan – B, D


Day 06: Kaza(3800) – Kye(4166m) – Kibber(4270m) – Gete(4270) – Kaza (3800m, ride/4-5 hrs)



From Kaza it's a beautiful ride of 14 kms to Kye village and visit the monastery. From here you ride further 11 kms to reach the village at Kibber. Spend some time here and then ride another 6 kms to reach the extremely scenic and possibly the highest village in the world, Gete (4270m). Have lunch at the village and from there walk to the village at Kibber. This is a great hike and you're going to relish every second of it. From here ride back to Kaza. Evening take a walk in the local market. Overnight in a hotel/guesthouse.
Meal Plan – B, D


Day 07: Kaza – Kunzum La (4550m) – Chandratal (4270m, Ride 3 hrs & trek 3 hrs)



This morning we ride to Kunzum La (4550m) and continue to Chandartal (moon lake). a point very close to the lake. This spectacular lake with its green water is extremely enchanting and has the snow clad mountains providing an excellent background. Overnight in tents.
Meal Plan – B, D


Day 08: Chandratal – Manali (2000m, ride 5-6 hrs)



Post breakfast we ride to Manali via the famous Rohtang pass. Check into a hotel.
Meal Plan – B




Trip Ends With Sweet Memories !!!
Things to carry -

For Adults - Photo identification in the form of Pan Card /Passport / Voter ID / Driving License
For students - Carry original as well as 2 photocopies of school or college Photo Identity card
For Infants - Carry 2 passport sized photographs

Things to carry along -

Mobile phone with appropriate sim card
Along with your necessary clothing and toiletries carry sun screen lotion, hand sanitizer, sun glasses, cap, sports shoes, umbrella / windcheater, camera etc. and woollens if needed
If you are on any medication, carry sufficient stock of the medicines with prescription


For Departure Dates just call 7350530009 / 7350540009 / 7350550009


Transport Options (Delhi – Manali – Delhi)



For travel from Delhi to Manali & back, one can choose between air, rail & road. For air travel, the closest airport is Bhuntar (Kullu) airport. There are a couple of flights that link this airport to Delhi airport

Train travel though not very popular is available to cover a certain distance. One can either take a train to Pathankot or Jogindernagar (narrow gauge). From both these places one will need to drive to Manali. For train details, you could log on to www.indianrail.gov.in and for online railway ticket bookings you could log on to www.irctc.co.in .

There are frequent Public Transport buses including Volvos available from Delhi to Manali that cost about Rs. 1300 per person. They take about 15 hrs to cover the distance. A private vehicle could also be arranged for if you require the same.




Weather Details



Temperatures and climate vary according to the altitude. The summer days are warm with brilliant blue skies (max 25°C. min 10°C), but the weather in mountainous areas can be very unpredictable. Come prepared for chilly evenings and a small possibility of rain. Early morning starts and descents at altitude require good quality weather gear.

Please keep in mind that the above information is not exact and does not account for sudden changes. Whatever the temperatures and conditions rest assured we will be prepared to handle it with ease as we use equipment of very high specifications.





Duration:

8 Days


Season:

Jun-Sep


Grade:

Moderate


Region:

Himachal Pradesh, Lahaul, Spiti









HIGHLIGHTS OF THE TRIP



Riding on High passes Baralacha La & Kunzum La.

Tabo & Dhankar monasteries.

Chandra Tal (moon lake), one of the most beautiful lakes in the Himalayas.

Time spent in Manali.



DESCRIPTION



During next few days you will be wandering through the highest mountain system on this planet. Starting from the famous hill station of Manali, you will start off with your journey to Jispa. On the way you will be riding over the famous Rohtang pass (4114m). This pass is an ancient trade route between the people on either side of Pir Panjal. Crossing this wonder of nature you will enter the province of Lahaul, where you will ride to the mountain village of Jispa on the banks of river Bhaga. Your stay here will enable you to get acclimatised to the high altitudes of the region. Jispa is located at a height of 10,890 feet above sea level in the Himalayan state of Himachal Pradesh. When you sleep at night, and all you hear is the Bhaga river along which this village is located. Jispa is as quiet as you can hope an inhabited place in India to be. With views as beautiful as you can wish them to be. During your stay in Jispa you will go on a long ride to the high pass of Baralacha La(4892m), This is also the spot where two major rivers originate: The Chandra and the Bhaga. They merge to become the Chandrabhaga at Tandi, a few miles from Jispa. Buddhists seem to attach a lot of religious significance to these passes. Invariably you will find some colourful Buddhist flags tied and fluttering in the wind.

Further in your road trip you will be visiting the land of highest villages in the valley of Spiti. To explore the high altitude cold desert region of Spiti valley, Kaza will be your base for much of it. At about 3800 metres (12,500 feet) Kaza is surrounded by a treasure trove of natural beauty, history, culture and religion. During your stay in Kaza you will visit the ancient Dhankar Monastery, The monastery lies on a cliff and from here you can see an amazing view of the Spiti river. It is situated at an elevation of 3,894 metres (12,774 feet) in the Spiti Valley between the towns of Kaza and Tabo. Dhankar is also famous for a magnificent lake which was formed along with the Himalayas. Further you will visit the high villages of the valley namely Kibber and Gete, followed by a short visit to the famous Ki/Key monastery. It is a hilltop monastery located 12 kms before Kaza at an altitude of 4166m. The setting is wondrous with the sweeping valley views and the Spiti river flowing down below. Travelling through these wonders of the mighty Himalayas, in the last leg of your trip, you visit the famous moon lake called Chandra Tal. It is a barren but beautiful lake located at a height of 14,100 feet in Himachal Pradesh. The lake got its name because of its crescent shape, believed to be discovered by traders who came to the region from Tibet and Ladakh. The sweet water lake is around 2.5 km wide. It is the source of Chandra River which merges with Bhaga River to form Chandrabhaga River and later assumes the identity of Chenab.

Bike Trip : Lahaul - Spiti - Chandratal 7N/8D