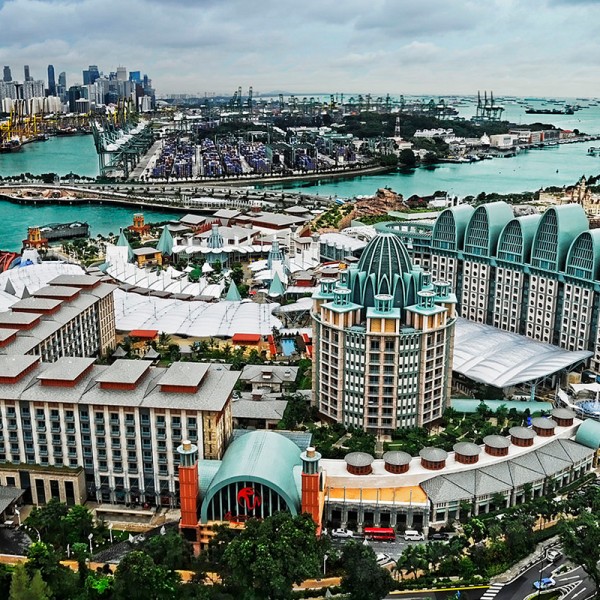 Itinerary -


Day 1:SINGAPORE

Welcome to Singapore. On arrival complete your immigration formalities & depart for breakfast. After Breakfast, proceed for CITY ORIENTATION TOUR including City Hall, Supreme Court and Merlion. Today visit URAMUSEUM which displays the country's effort with terms of land use, natural reserves, heritage and history by making 11 meters by 11 meters architectural model of the country with touch screens, 48 displays and 3D animations. SINGAPORE FLYER - The world's largest observation wheel standing at a stunning 165m from the ground which offers a breathtaking panorama of city. Enjoy your lunch. Later check in to the hotel. Evening free for leisure or evening optional visit Night safari/Marina bay sky deck. Dinner and overnight at SINGAPORE.

Day 2:SINGAPORE

After breakfast, Enjoy your full day at UNIVERSAL STUDIO - Enter the thrilling world of movie magic as you "Ride the Movies" on roller coasters and other movie-themed attractions. Be dazzled and delighted by an immersive entertainment experience that brings the silver screen to life. Don't forget to ride Transformers - with 3-D, high-definition projected images, 4-D sensory and special effects and large-scale animatronics characters. Later enjoy WINGS OF TIME - Musical dance & laser show. Dinner and overnight is at SINGAPORE.



Day 3:SINGAPORE - CRUISE

After Breakfast, morning will be free at leisure. Later enjoy your lunch. Get ready to boost yourself to visit MARINE PARK - The world's largest oceanarium and be inspired by the myriad marine wonders of our blue planet. Inside visit S.E.A. Aquarium, the world's largestaquarium where we can see more than 800 species of marine animals from magnificent sharks to rarely sighted fishes. In evening get ready to boost yourself to blast at SENTOSA ISLAND, the home of exciting attraction & manmade beach. Depart for cruise terminal to enjoy your 2 nights @ cruise.



Day 4:CRUISE

On board cruise



Day 5:CRUISE – SINGAPORE

Cruise arrives at 1200. Enjoy your lunch and depart for GARDENS BY THE BAY consists of three distinct waterfront gardens – Bay South, Bay East and Bay Central, set in the heart of Singapore's new downtown Marina Bay, Spanning 101 hectares. Visit CLOUD FOREST- Step out of the concrete jungle into a realm high in the mountains where you can learn about rare plants and their fast-disappearing environment. Visit FLOWER DOME -Enter a world of perpetual spring, where unique plants bloom in an ever changing display of flowers. Later check into hotel. Dinner and Overnight is at SINAGAPORE.



Day 6:SINGAPORE – SUNWAY LAGOON

After breakfast, checkout form hotel and depart for SUNWAY LAGOON. Enroute visit BATU CAVES, the lime stone caves said to be around 400 million years old. Visit WATCH OUTLET where you can have a look at world's famous brands. Enjoy your lunch & then proceed to visit KL TOWER - The tallest tower in Southeast Asia - 421m high – Enjoy extraordinary panoramic view of city from observatory level. Later, photo stop (from outside) at PETRONAS TWIN TOWER - The tallest twin structure in the world. Visit PUTRAJAYA – A new planned administrative center of the federal government of Malaysia. That emphasizes on the preservation of its eco culture and environmental, it will be developed as a modern, futuristic, intelligent and unique garden city. Check into the Hotel.Dinner and overnight is at SUNWAY LAGOON.



Day 7:SUNWAY LAGOON

After breakfast, proceed to experience Asia's Best Water Park SUNWAY LAGOON Journey into Malaysia's only African-themed Water Park. Enjoy rides and attractions Dinner and overnight is at SUNWAY LAGOON.

Day 8:SUNWAY LAGOON – GENTING HIGHLANDS

After breakfast, check out from the hotel and proceed by coach for GENTING HIGHLANDS - A mountain retreat 6,000 ft above sea level - stop at the skyway cable – car station Gohtong Jaya for a ride up by Cable – Car, where you will be amazed at the magnificent view of mountains and rainforest scenery. (Subject to Weather Condition) on arrival take the orientation tour of GENTING GALLERIA and Check into Hotel. Evening is free to enjoy Casino, Discotheque and live Entertaining shows on your own. Dinner and overnight is at GENTING HIGHLANDS.

Day 9:GENTING HIGHLANDS – BANGKOK – PATTAYA

After breakfast, depart to Kuala Lumpur budget airport to catch your flight for Bangkok. (Please note: Malindo Airlines/ Air Asia is a low cost airline so no meals will be served on Board.) Welcome to Thailand. After immigration, drive to Pattaya, will take 2.5 hrs by coach. On arrival Enjoy your Lunch & check into hotel. After freshening up, enjoy ALCAZAR a marvelous combination of music, dance and costume. Dinner and Overnight is at PATTAYA.

Day 10:PATTAYA

After breakfast, ride through Aqua Blue Ocean to CORAL ISLAND by speed boat. At coral island you can see the coral formations and the beautiful underwater life through a glass bottomed boat. Enjoy Parasailing, underwater world and water sport activities all at your own expenses (Do carry Slippers, Towel etc… as you are going to get wet so dress accordingly) Lunch. Later visit ART IN PARADISE- A museum of pictures. Thailand's first three dimensional museum & you can get creative with the paintings as the 3D imagery looks more authentic in photographs. Dinner and Overnight is at PATTAYA.

Day 11:PATTAYA - BANGKOK

After breakfast, depart for BANGKOK. Enroute visit world's biggest jewellery showroom, GEMS GALLERY - Explore the world of gems through Slide Multivision presentation rooms FLAMINGO TRANSWORLD PVT LTD | 7 plus the unique tram Ride. After Lunch, enjoy the GOLDEN BUDDHA TEMPLE & RECLINING BUDDHA TEMPLES. Check into the Hotel. Tonight sail on the princess CHAOPHRAYA DINNER CRUISE - With live band on board - glamorously decorated in unique Thai style - enjoy Spectacular View of Historic Places along the Chaophraya River. Overnight is at BANGKOK.



Day 12:BANGKOK

After breakfast, drive through some adventure and entertainment in SAFARI WORLD & MARINE PARK - Feel the ultimate Safari experience. A journey through the Safari World will no doubt turn out in to one of the most memorable events of your life. Witness the picturesque African settings with intimate encounters with Dolphins, Orang Utang, Sea lion show. Also enjoy Hollywood style stunt show and cowboy show at the adventurous Safari World, one of the most popular Bangkok Tourist Attractions. Evening free for shopping - (Shopping drop if time permitted). Dinner and Overnight is at BANGKOK.

Day 13:BACK HOME

Morning breakfast at the hotel. Check out from the hotel @1200hrs. Enjoy your Lunch. Day at leisure. Later depart for Airport for your flight back home. It's time to say goodbye to your Tour Leader with happy memories of your Holiday and Do your check in and Immigration on your own.


Trip Ends With Sweet Memories !!!
For Departure Dates just call 7350530009 / 7350540009 / 7350550009
Payment Policy
Booking Fee

30 or more days before departure: 50%

Between 29 to 20 days before departure: 100%



Cancellation Policy



Cancellation charges per person

30 or more days before departure: 50%

Between 29 to 1 days before departure: 100%



Terms & Conditions




Per person rates (in Rs) - applicable on two persons staying together sharing the same room

Entrance charges anywhere are not included

Package rates are subject to change without prior notice

Meal plan: EP - Accommodation only, CP - Accommodation with breakfast, MAP - Accommodation with breakfast, lunch or dinner, AP -

Accommodation with breakfast, lunch & dinner

The above package is not valid during national holidays, festivals & long weekends (Independece Day and Janmashtami)

Namoh Retails (Pvt) Ltd reserves the right to change/modify or terminate the offer any time at its discretion and without any prior notice

In case of unavailability in mentioned hotels, alternate accommodation will be arranged in a similar category hotel
Seasons -
As a country near the Equator, Singapore does not have four seasons and in popular culture is known to have two - Wet and Dry. The Dry 'season' usually last from March to August, while the Wet 'season' lasts from September to February. However, there is not fixed weather in Singapore.
Currency –






Language –




About the place -


Singapore Tour Packages – Book Singapore holiday packages with Namoh. Here you will get ready international tour deals to make your holiday trip an unforgettable one and create memories of a lifetime. You can choose your style of trip, be it exclusive customized tour or an all-inclusive group tour. Singapore offers unique urban experience woven by the perfect ethnic mix & developed by its long history. Tourists from around the world flock to this city to explore its high end shopping malls, luxury hotels, fine dining, amazing lifestyle and nightlife experiences.

The highlight of this city is presented in its vibrant historical touch that now represents its transformation from a tiny fishing village to a glamorous urban abode. The place offers various family-friendly attractions and excellent transportation services that make getting around more convenient and easy. This destination is home to designer stores on the commercial Orchard and the Garden by the Bay, the most expensive garden in the world. If you are planning a Singapore trip for kids and adults both then Sentosa Island which offers the Universal Studios, beaches, luxury resorts and many exciting activities will makes it the ideal family destination. Don't miss the iconic Merlion Park on Marina Bay!

Namoh offers you Singapore tour packages from Ahmedabad, Mumbai, Delhi, Jaipur and other major cities of India. We try our best to serve our customers with utmost comfort through our prompt communication and our network of offices around India offer door step service. Most of our team members have already been to the destination and that will surely add tremendous value to your holiday. We specialize is serving vegetarian as well as Jain food on all our group tours. So hurry up, and plan your Singapore holiday trip with us so that you can create warm memories to cherish, while we take care of the rest!


Southeast Dhamaka 12N/13D